This past weekend was (Inter) National Scrapbook Day and there was a blog hop over at
Scrapbook Challenges
where the design team members created a layout from a sketch and then there was a puzzle created. Each design team member revealed their layout in one small puzzle piece and the participants had to put all the puzzle piece together to come up with the sketch.
NSD Blog Hop Sketch
I created a layout of my new cat Sheldon. I named him after Sheldon on the sitcom "The Big Bang Theory" I adopted from our local animal shelter. He was in poor shape when he was brought to the shelter as a stray with an access on his head. He had tubes draining the fluid on his head and many antibiotics but after two weeks his health was improving and he was available for adoption. Isn't he handsome? He is really affectionate and has a very laid back personality. My older cat Asia is not impressed. She is 13 years old and loved the peace and quiet. Sheldon definitely livens up the household.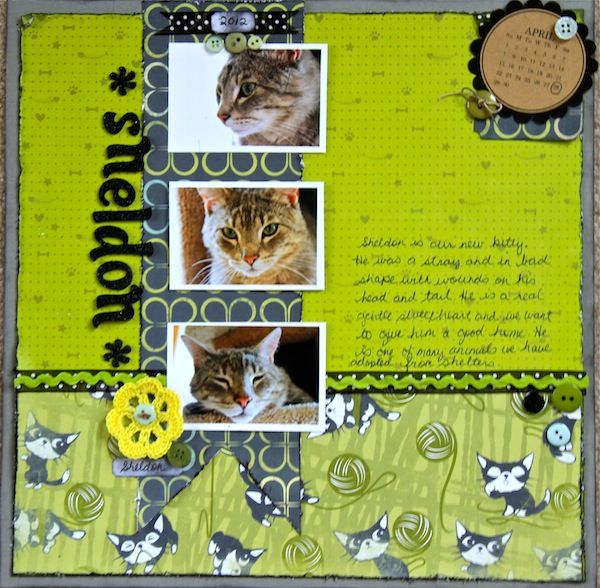 Sheldon
Pets deserve their fifteen minutes of fame and they truly deserve their own scrapbook album. There are so many cute patterned papers and embellishments designed for our furry friends. Here are a few layouts of my furry friends.
Elly
Asia
I challenge you to scrapbook your furry friends. Have a great day!